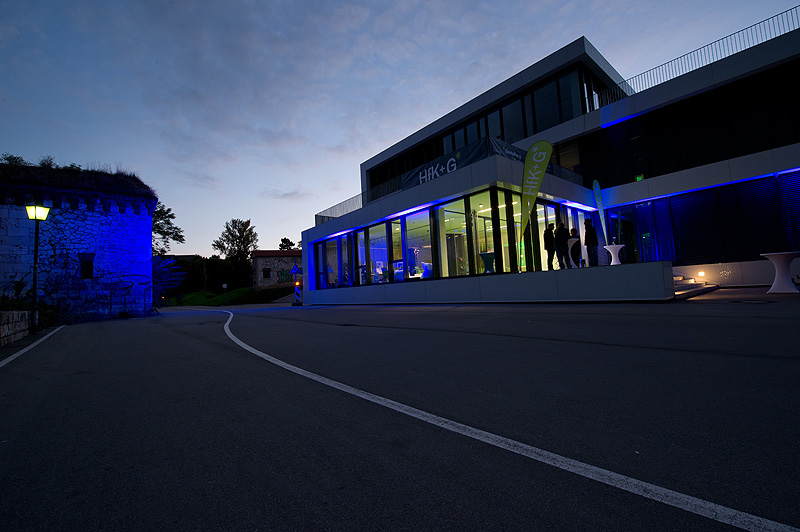 Creative people create spaces – creating spaces for creative people
State Conference for Creative Industries on 24.09.2015, Campus Ulm
Kreativland Baden-Württemberg – the fifth state conference for creative industries took place this year in Ulm in the rooms of the Hochschule für Kommunikation und Gestaltung. For the Hochschule für Kommunikation und Gestaltung it was a good opportunity to establish contacts with partner companies for the dual study programme, the practical semester or for later employment. In addition, the university was also able to contribute its content through the participation of course director Prof. Mark Schmid in the panel discussion as well as through speeches by Prof. Sabine Wagner and Prof. Eberhardt Wüst.
Creative professionals and decision-makers from Baden-Württemberg met at the conference. After an introductory speech by Lord Mayor Ivo Gönner (City of Ulm), State Secretary Peter Hofelich MdL (Ministry of Finance and Economic Affairs Baden-Württemberg) opened the event in front of around 130 participants. Under the leitmotif: "Creative people create spaces – creating spaces for creative people", contributions, discussions and a panel discussion showed how important creativity is in business and what can be done to attract creative minds to Baden-Württemberg.
Johannes Milla, managing director and creative director of Milla & Partner in Stuttgart, and the project manager and one of the designers of the SAP AppHaus, Daniel Markwig and Beate Riefer, from Heidelberg, provided concrete examples in their presentations:
In his lecture "Platz zum (Er)schaffen. Innovative spaces for innovative ideas" Johannes Milla used his own projects to show how "Digitality to touch" opens up new spaces and inspires new spatial concepts. In their presentation "SAP AppHaus – Working Creatively with Customers", the employees of the SAP AppHaus illustrated how a creative and flexible workplace has a positive effect on the development of employees' ideas.
This was followed by a panel discussion entitled "Creative people work in a variety of ways. What support do they need?
with State Secretary Peter Hofelich and the Keynote Speakers
In the second part of the event, the conference topic was finally viewed from a variety of angles in the form of a panel discussion – the audience was also able to contribute by making comments.
On the topic "City. Country. Space. Everything ok for creative people" discussed
Prof. Claudia Frey, Managing Partner Bertron-Schwarz-Frey GmbH, Ulm
Kathrin Guther, Bootschaft – Crew for design, Neu-Ulm
Mayor Iris Mann, City of Ulm
Prof. Mark Schmid, Head of Communication Design, HfK+G Ulm
Josef H. Seidel, Seidel Architects and General Planners GmbH, Ulm
The contents were visually recorded in the form of a graphic recording by Anja v. Klitzing-Bantzhaff, photos were taken by Markus Schutz / MFG.